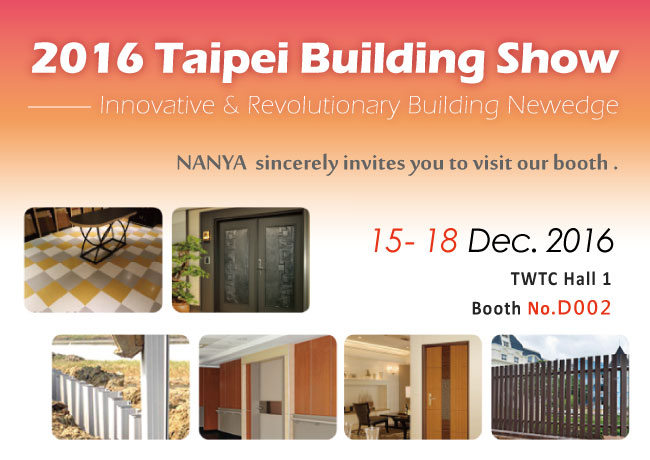 In the TWTC Hall 1 at the "28th Taipei International Building, Construction & Decoration Exhibition 2016"(2016 Taipei Building Show) from December 15th to 18th, 2016, we will be presenting a variety of our latest decorating and engineering material products, featuring fashionable colors with energy saving and carbon reduction technologies. We will be more than happy to exchange ideas and experiences with domestic and international traders and professionals.
Show the content
Division
Product
Item
Plastics 3rd Div
1. Flooring
Deluxe VCT Tile, Deluxe Vinyl Tile.
2. Inoor Decorative Materials
Injet Printing Series contain wall panel, fireproof board, A-PET sheet, and PVC sheet.
3. Furniture Board
Injet Printing Vinyl Board, Injet Printing Celuka Board, Eco Celuka Board.
4. Door panel
Injet Printing Vinyl Door.
5. Outdoor product
Eco Plastic Lumber, Eco Landscape Decking and Panel.
6. Engineering Material
PVC Piling.
7. Others
PVC Pipe, PVC Compound.
Engineering Div
Switchgear Unit
NAN YA PHOTONICS INC.
NYPI LED Lighting.
Chang Gung Biotechnology
Chang Gung Life Energy Water.Reactor
◆ Booth : D-002, Hall 1, TWTC
◆ Address: No. 5, Xinyi Road, Section 5, Taipei City, Taiwan (R.O.C)
◆ Contact : Nan Ya Plastics 3rd Div. Mr. LIN PING YEN
◆ Tel : +886-2-2712-2211#8173
◆ website : http://www.npc.com.tw/j2npc/enus/home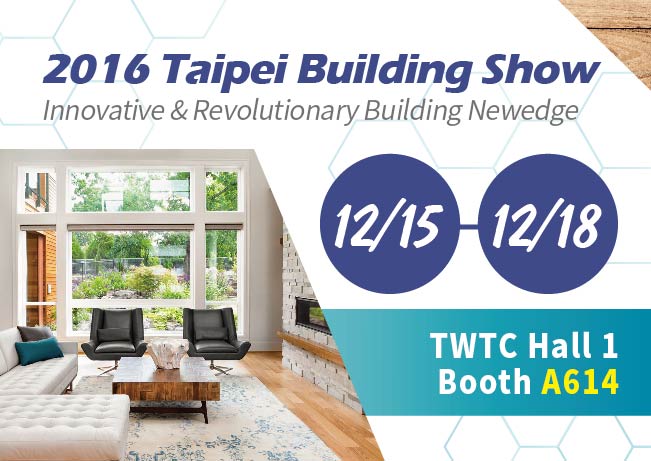 Show the content
Division
Product
Item
Plastics 1st Div
1. Interior decoration materials
PVC Decorative Films, Vinyl Fabric Wall Covering.
2. 17-18AW Fashion Trend and Design
PU Leather.
3. Outdoor ecofriendly building materials
Nanya Icecool Window Film, High IR-Cut Clear Window Film, Stadium Runway Exercise Material (IAAF), Indoor Flooring Material, Waterproofing Green Material, Fire Blanket, Digital Printed PVC Sheeting, Anti-static PVC sheeting.
◆ Booth : Booth A614, Hall 1, TWTC
◆ Address: No. 5, Xinyi Road, Section 5, Taipei City, Taiwan (R.O.C)
◆ Contact : Nan Ya Plastics 1st Div. Mr. YANG
◆ Tel : +886-2-2712-2211#5895
◆ website : http://www.npc.com.tw/j2npc/enus/home